A Killer Tweet. How Impulse Posts Ruined Reputation
Posts on an official Twitter account are just the same as a response from a company's director. They are closely related to reputation and often serve the basis for building the first impression of a business.
The history provides examples of employees' ill-considered posts or actions that have led to considerable damages to their image. The Reputation America has looked into four outstanding examples. Read them and discover why control over every public action is so important.
How a tweet about discrimination scared away clients of a PR agency
What happened. A Barcelona resident Carla Forcada applied for a position in Impulsa Comunicación PR agency. The company was looking for a specialist to work with major brands: Coca-Cola and a car glass manufacturer CarGlass. Carla was rejected. The agency hoped to hire a man because he would perform the job better. Carla took to Twitter.
Increíble que todavía existan empresas que no apoyan la igualdad de género en el ámbito laboral. #VERGÜENZA #IGUALDADGENERO@ONUMujeres @mujerderechoTIC @MujeresIgualdad @CCOO La empresa es: https://t.co/XDe3seZZLS pic.twitter.com/KS2qxaAFij

— Carla Forcada Elvira (@forcada_carla) 14 февраля 2018 г.
The post gained 3 thousand likes and the same number of retweets, thus going viral. The brands had an Impulsa Comunicación employee that used to work with them and reacted to the tweet. Coca-Cola and CarGlass severed relations with the agency and announced that they showed no support for any discrimination.
How it was saved. The director of Impulsa Comunicación offered Carla the job, but she refused. Following the scandal, other major clients left the agency. A single tweet had ruined the company's reputation.
Conclusion. All of a company's actions can potentially become public even if they are related to employment matters.
Reputation brought down a cryptocurrency exchange rate.
What happened. Quite often, a cryptocurrency exchange rate has secure connections to the coins issuing a company's reputation. Together, they rise and fall. An example being the Korean-Chinese company Waltonchain. It decided to hold a competition for its Waltoncoin coins on the eve of Valentine's Days. The conditions were simple: sign up through a Twitter account, retweet, and add the hashtag #WaltonchainLove and tell your friends. The randomizer appointed five lucky ones who would end up getting 21.4 Waltoncoins. At the time of the competition, it amounted to about 500 dollars.
On February 28th, the company announced a list of winners through its official account. A little while later on the same account appeared a post allegedly written by one of the lucky winners. Waltonchain quickly noticed it and tried to cover up the tweet. But the Internet was one step ahead of them and accused them of rigging the results.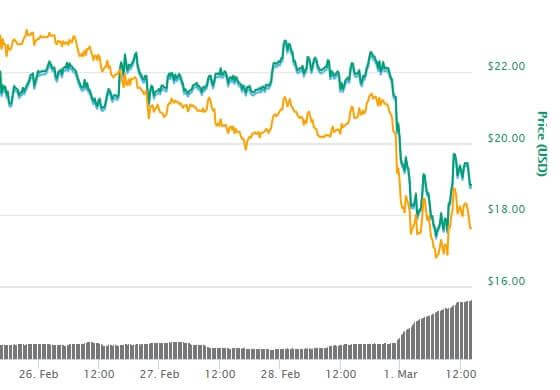 After the incident, Waltoncoin holders started dumping all their coins. According to CoinMarketCap, the price of Waltoncoin dropped 20% in a single day, and it's total market capitalization decreased by a hundred million dollars.
How it was saved. The company posted a tweet with apologies. According to the tweet, one of the winners was a Waltonchain employee. It was the same person who was responsible for the official Twitter profile; he just forgot to switch accounts. He was called out and didn't receive the prize. It was forbidden for employees to take part in the company's future competitions and promotional campaigns.
Conclusion. Transparency is valuable over the Internet. All actions influence one's reputation, and a brand won't ever be able to get rid of a fraudulent event.
Fired for a tweet
What happened. A scriptwriter of a famous American TV show Saturday Night Live, Katie Rich posted a lame joke on her Twitter. The brunt of the joke was the son of the US President Donald Trump. According to Katie, the boy stands an excellent chance to become the country's first homeschool shooter.
The scriptwriter immediately deleted her post and closed the account, but it was too late. Other users remarked that school shootings are no joking matter. Katie was accused of hate-mongering; some people suggested that NBC, the channel that broadcasts Saturday Night Live should be boycotted.
How it was saved. The channel management suspended Katie Rich from working with the TV show. Soon, she resigned from the channel.
Conclusion. Employees' actions on the Internet are directly related to the company.
Afterword
It's a human behavior factor to blame in all of the above-discussed cases: lame jokes, wrong decisions, and conclusions. Everyone responsible for the reputational losses wanted to improve, but they had no chance. There are no blind spots, but it is possible to win over the Internet rage. If you've faced any reputational problems – contact us. We will give you advice and a helping hand.