How to Delete Yelp Review: A Comprehensive Guide to Removing Bad Yelp Reviews
Admit it – you were skimming 'how to delete yelp review' search results until you found this post, right? No shame in the game. Negative Yelp reviews are embarrassing, ruin a company's reputation, and cost you more money than you previously thought.

Perhaps a client wrote negative feedback, or one of your competitors tried to drag your company's name through the mud with faked, bad Yelp reviews. This is terrible news for your company. Yelp is among the popular platforms and gets about 145 million unique viewers monthly. 82% of these users check reviews with intent to purchase. In case they see a wall of negative reviews, there's a good chance they'll buy from your competitors.
Schedule an online meeting with a reputation expert
All you need is an email
Besides, Yelp.com reviews and related complaints get indexed by the search engines and might be more visible to users. All this points to continued loss of income. Whether you own a local business or manage a giant corporation, falling profits are always a big deal. Therefore, you must learn how to delete a Yelp review and maintain an excellent online reputation.
How to delete Yelp review
The specific guidelines set by Yelp let uses share all types of content, including customer reviews. The rules are a little bit strict regarding consumer contributions and support the concept of 'playing nice' while offering relevant details to other users. The platform discourages advertorial information unless you own the business, and you are adding the promotional content to your Yelp page.
These guidelines primarily focus on creating a space where consumers can share real experiences with various businesses. This form of transparency and wealth of information help other consumers make informed choices.
Unfortunately, some entities use the platform as a chance to create damaging content just because they have a conflict of interest with the business manager or business owner. This is why it's natural to have the urge to remove yelp review comes in. So, if a negative review has been released online, here is how to delete yelp review while avoiding further damage to your online reputation.
Responding to the review
This is among the highly productive and somewhat less messy approaches to remove yelp review without attracting unnecessary attention. Respond to the specific reviewer to change that negative impression. This will give you a chance to improve your business's reputation score online and leave a desirable impact on your prospective clients.
For instance, if the consumer isn't contented with your products or services, you can offer to rectify his or her experience by providing a better product or overall experience. If you own a landscaping firm, you can offer to get the project redone efficiently.
Yelp.com has an inbuilt tool for business managers and owners that lets them address reviews publicly or privately. But what do these options mean for your company? Both public and private responses have benefits and limitations.
Public responses
By diplomatically responding to complaints publicly, the platform users will realize that your organization is apologetic for the alleged sub-par customer experience, appreciate their opinion and that you're doing something to correct the issue. This form of public recognition is essential for your company.
But there's a steep price to pay.
In case you respond less professionally and courteously, you're likely to lose respect from all other Yelp users. The reviewer may also get incited, and that might lead to a more extended, negative engagement. What's more, writing a response means adding new content to the negative review, helping it rank better in various search results!
Responding privately
The primary benefit of sending a response to your reviewer privately is that you can successfully appeal to him or her rationally or calmly. You can also request more details about their overall experience and offer to correct it directly. It is possible to get the user edit or remove the Yelp review. This way, you won't be helping the negative content rank better by keeping it up-to-date with new content.
By addressing a negative Yelp review directly, you run the risk of the consumer responding publicly. Other users might think you're ignoring the complaint. Therefore, it's best to respond calmly, professionally, and courteously. Let the consumer know that you care about them, appreciate their feedback, and be willing to do something about it.
Report bad reviews that violate Yelp's guidelines
Sometimes, Yelp's algorithm might fail to detect content that violates its guidelines. If you're not sure about how to delete a Yelp review or get it edited, report it to the platform administrators for potential removal. Here are some of the issues that you can report.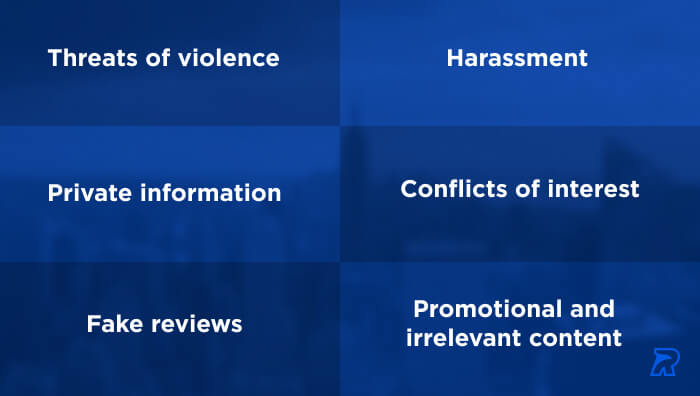 The process of reporting a review and getting it removed might take days to complete. So, keep on checking the status. If the negative review isn't removed, it's time to explore other options to protect your business reputation.
Consult with an expert
In the era of cyberbullying, hate online platforms, and somewhat ineffective online privacy laws, you must understand the importance of your online corporate image and take the right steps to protect it. The internet offers countless guides and tips on how to remove bad reviews from Yelp and cultivate a positive online image. However, implementing that knowledge isn't a walk in the park. You may need an expert's help to protect your business reputation.
There's no magic missile to shoot harmful content off the internet. Choose an expert who uses only legal methods to restore reputation. Threats or hacking could ruin your reputation more than just a negative Yelp review.
The thing is…
The emergence of online platforms such as Yelp has made it easier for consumers to share information globally with just a few clicks. A recent study revealed that 90% of consumers read an online review before making a purchase decision. Besides, a negative review can potentially convince about 94% of shoppers to avoid visiting a specific business.
That means no matter your industry, a positive online image gives your business several key advantages. Yelp reviews are part of your business image, and you must aim at offering excellent customer experience and request your clients to leave great reviews. But if your company gets a negative review, you now know what to do.