How to Handle YouTube Slander?
When a video goes viral, people, companies, and organizations get a lot of free publicity for their lives and causes.
But what happens when that content is negative? A nasty, viral tweet or video can ruin your reputation in no time flat. In the time it takes the 24-hour news cycle to pump out a story, comment, or bad review, all the work you've done to establish a solid reputation is ruined. Some of that YouTube content is slanderous, and you need it gone.
That's where we come in. Reputation America is the agency you need behind you when bad content hits the Internet and threatens your image and reputation. It doesn't just go away. Once it's on the Internet, it's there forever, right? Wrong. Reputation America is a team of professional information experts who remove defamatory content from YouTube and other websites.
Some of that content is libelous and defames you. Reputation America deletes the information using only legal, legitimate means.
How we remove slanderous content from YouTube:
We collect all information pertinent to your case.

We study everyone involved and get to the source of negative footage.

We collect data on the author of the negative content, their administrator, and the host.

We carry out tests and explore the contacts of each party involved.

We discover whether the information is being monitored and, if so, by whom.

We check whether removal is the best option, or whether deleting it carries additional risk.

We create a project plan for the best way to move forward.

Once we (and our client) decide on the best approach, we act.

Removal is not always the only – or best – way to move forward.

It may be that combating negative content with re-written or replaced material is the smartest choice.

We work with psychologists, conflict specialists, SEO and content specialists, lawyers, and even mediators to remove the information.
Our team of specialists deletes information from international social networks. We do not collect any money from you until the job is done. This sets us apart from other reputation management companies!
It's easy to post videos to YouTube, and since everyone has a cell phone and access to the Internet from just about every corner of the globe, negative videos and other materials are easy, almost too easy to post. And often, these videos lack context, and that can create a whole host of problems for the person in the video – you – who is, for example, talking to a young boy while his mother is in another aisle of the grocery store. Imagine that clip with a caption like this: "This boy is not John Doe's son. Anybody else thinks it's inappropriate?"
That's slander. That's YouTube defamation. That's libelous. The professionals at Reputation America delete, scrub, counter, and get rid of YouTube slander….fast.
YouTube "asks" users not to publish violent, hateful or pornographic content, of course. But this ubiquitous site cannot possibly police every single post that comes online. That's how negative content winds up there. That's how YouTube defamation and slander get online. And because of the sheer number of articles and images YouTube deals with, it's up to the injured party to contact the individual who posted it and ask, please, and please take it down.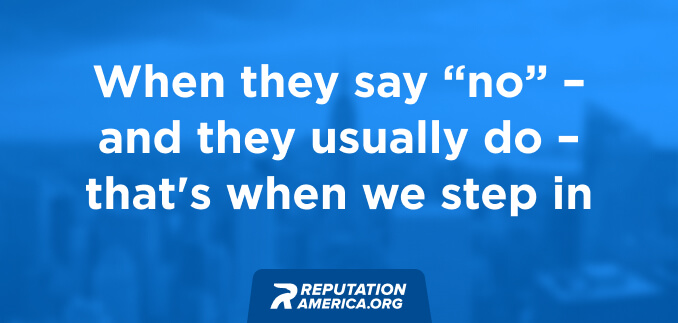 Our information specialists know the mindsets of English-language sites, how users behave, what they are notable for, and how they adapt to a specific person; i.e., Our information specialists proceed from peripheral staff to CEO – from the receptionist to executive management – to get the job done. In other words, we get to the person who can negotiate to remove negative content. We know the rules and pitfalls of YouTube and other sites. Our information specialists and professionals are expert communicators with editors of American web portals. We can:
Deindex/Delete/Change negative articles in all top American mass media, including the Top 20 Media. We don't just remove the information; we fix the problem! We Eliminate YouTube Defamation.
Removing particles is not the only way to solve some online issues. Sometimes we discover, during negotiations, that the person (you) being targeted doesn't have the right to delete it. Unfair, right?
But there are ways to combat that content. For example, we can affix a postscript, saying "the person was acquitted," or "we refute this article," or "this article is outdated." These and other measures go a long way toward restoring your good name. And your good name – and your reputation – is what Reputation America is all about.
We've handled hundreds of clients since we began in 2010. We've removed thousands of items from the Internet. Remember: a single piece of content that comes up on YouTube, or Google or Yahoo, can do untold damage in mere seconds.
Let us start helping you. Today. While there is still time to restore your reputation, the one you've worked so hard to establish. The one you have fought for worked for and kept clean. Now suddenly, there is an article, review, or video that is slanderous, and it's just gone viral.
What do you do?
Contact the professionals at Reputation America and let us get to work deleting all negative content.
We guarantee anonymity and confidentiality.

And we don't take money until the job is done and you're satisfied.

Remember: a picture is worth a thousand words, and a picture in the wrong hands – someone with a grudge, someone who's a rival – can ruin you. Put your image and reputation in the hands of our specialists.

Everything we do is 100 percent legal and legitimate.

We find solutions to your problems and erase negative content.

We love a challenge. We love tough cases.

We have helped dozens of celebrities, politicians, business people, and everyday folks get their Internet profiles scrubbed clean and their reputations restored. Let us work for you. Now. Before more damage is done.

We can give you back the solid reputation and clean image you worked hard to establish. It's not just our job – it's our mission.