How To Remove TripAdvisor Review: Detailed Guide
As we change and evolve in the digital age, the impact of negative online reviews continues to grow.

This is especially true for travel-, restaurant-, and hotel businesses, which rely heavily on positive customer relationships to promote the so-called word of mouth and social media marketing. The guests' and customers' opinions are essential; companies in these industries simply need to be on the lookout for effective ways to remove a Tripadvisor review or otherwise counteract negative feedback. So keep reading if you want to figure out how to delete a Tripadvisor review. If something seems too complicated for you, you can always turn to us for some professional help! Our finest specialists can assist you with any Tripadvisor review removal.
Are you looking for the best ways to improve your TripAdvisor presence? Great thinking! Your first step is to receive TripAdvisor reviews. Therefore, one of the most effective ways to get reviews for your business is to ask customers for feedback immediately after purchasing your products(s) or using your service(s). After that, you can go ahead and try to remove a TripAdvisor review if it is negative. Thus, customers immediately begin to think about how big, well-known, and influential your business is, becoming one of the many reasons they are much more likely to leave feedback. And of course, not just any feedback, but a positive review that will beneficially affect your rating.
But what happens when you get a TripAdvisor review that looks, let's say, unfavorable and even not so pretty? Maybe it's negative and can dent the popularity of your business, or perhaps it's just a fraud on the part of people who want to harm for no good reason. Whatever the reason may be, sooner or later, the time will come when you want to remove a TripAdvisor review. We will share all the steps and methods that may help you delete a TripAdvisor review, and you never have to worry about false information about your business.
How to remove TripAdvisor review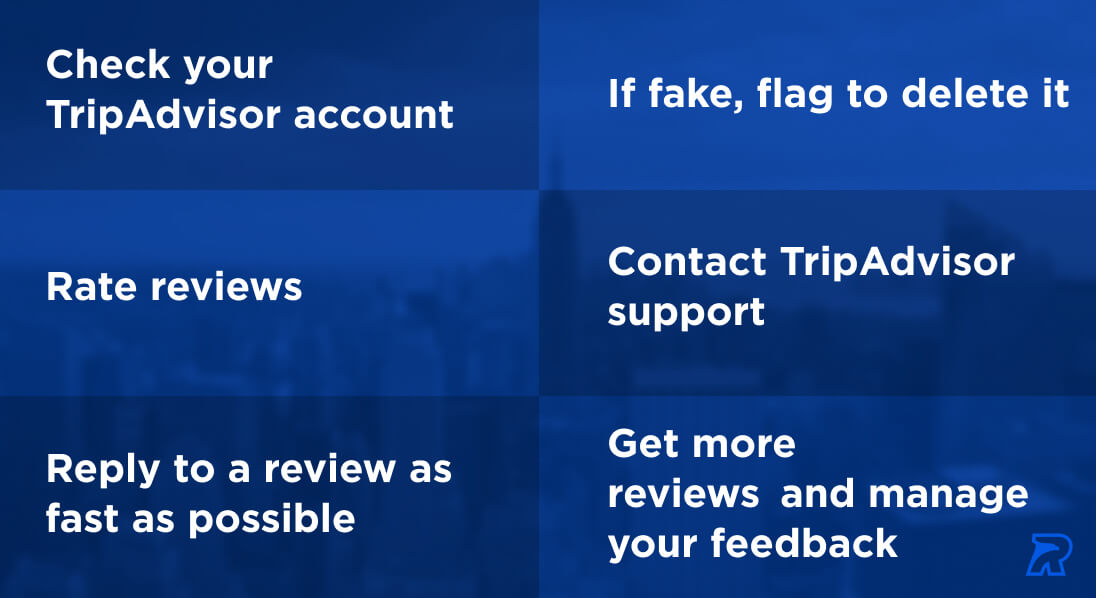 Step 1: Check Your TripAdvisor Account — What Can You Do To Delete TripAdvisor Review?
You have to get to know all the tools that are presented to you in your TripAdvisor account. One such tool is the TripAdvisor Management Center, your command center (since you own a business). If you cannot find your Management Center, make sure that you have declared your property. Once you have logged into your TripAdvisor Control Center, you can view the reviews left by other people. Just click on "Manage your reviews," You will see all the reviews you've received. Now you can try to remove a TripAdvisor review that is negative and affects your rating.
Step 2: Evaluate your Feedback For Future TripAdvisor Review Removal
You may already be familiar with this step from other review removal guides. The fact is that it is very important that you carefully study the feedback received. If you do not consider them carefully before reacting somehow, you may have much bigger problems than a couple of negative reviews.
So, we want to share tips for evaluating your TripAdvisor reviews effectively before you take any further action.
Check reviews regularly — set a schedule.
If you prefer to check your reviews on a weekly or monthly basis (this, in theory, should depend on the number of reviews you receive), we recommend developing a system to help you remember when it is time to check. Having a set schedule will help you stay up to date with both positive and negative reviews. That will help you manage your presence on Tripadvisor and the Internet in general, much better than if you simply checked the reviews from time to time.
Decide if the reviews are real or misleading (to try to delete TripAdvisor review)
Most of the time, you can immediately understand if the review is real or fake. A fake review may be full of spelling, grammar, and other errors, and it can also be vague and unreasonable. All these are signs of a fake review, so you can make an effort and try to delete a TripAdvisor review. Usually, a real review is clear, understandable, and distinct; it may concern your employees (their names may be indicated) or other features that you can point out quite quickly. Of course, some fake reviews are much more difficult to detect, so be extremely careful and diligent when looking through them.
Step 3: Timely (read: Quickly) Respond to Reviews
When you check your reviews on TripAdvisor, it's time to respond – correctly and competently. That's why a schedule is a good idea; it helps you be proactive and prevents you from missing any negative feedback.
We strongly recommend responding to reviews promptly. Thus, your customers, who took the time to write a review about your company, feel heard and appreciated. Even if the review is negative, it's in your best interest to respond as quickly as possible. It helps you control the situation and potentially make a difference. Yes, this is directly related to TripAdvisor review removal.
In response to negative reviews, several tips should be taken into account:
Recognize a problem
Apologize
Explain if necessary
Provide compensation
Try to take the conversation offline.
The tone of correspondence will be different if you respond to positive reviews. We have an action plan for positive reviews. What should be done:
Thank a person
Be brief; forget about long reads.
Be personal and genuine.
Invite a reviewer to share a positive review or take other action
Share positive feedback
Yes, good reviews are no less important and require specific actions! Keeping these tips in mind will help you handle every type of TripAdvisor review that comes your way.
Step 4: If the review is fake, flag it for removal — it may help you to delete TripAdvisor review
Once you've rated and answered most of the reviews, it's time to take care of those annoying fake reviews. If you are sure that the review is fake, you have no choice but to report it to TripAdvisor through your Control Center. Be sure to check TripAdvisor's guidelines before taking this step.
How to report a suspicious review:
Log into your Management Center

Click on the Reviews tab.

Select the "Report a Review" option

Find the "Concerned about the review?" section.

Click on the link "See our guidelines and submit your comments."

You will see a form in which you select a suspicious review and state your reasons for reporting the review.

Describe any evidence that you found while checking your records
After completing all these steps, the TripAdvisor support team will observe your review and probably strike it through. Having as much documentation as possible may help ensure that the review is taken down, although there is no 100% guarantee that it will be deleted after you report it. Remember that you can always contact our agency for this service; our professional team has a lot of experience removing negative TripAdvisor reviews.
Step 5. Contact TripAdvisor Support for TripAdvisor Review Removal
What else can you do? 
You can contact TripAdvisor Support to help move the process along if you think this is necessary. Businesses with a TripAdvisor account get a separate support phone number, so you need to look around your Management Center if you want to find out if you can find a direct line. Calling and talking with a representative can increase your chances of speeding up the process of TripAdvisor review removal.
Another useful step that can help maintain your reputation is to continue receiving positive reviews. Over some time, they may well supersede negative feedback and fake reviews. It is not a wrong way out, we assure you! In case you don't see any other options, you can always contact our agency for this service; we can help you remove a Tripadvisor review.
Step 6: Get More Reviews From TripAdvisor (and react quickly to delete TripAdvisor review)
Even if you cannot remove fraudulent or harmful reviews, not everything is lost. About 75% of consumers believe that reviews older than three months do not matter at all. This is good news, primarily, if someone has managed to leave fresh, positive feedback.
To help drown out these negative reviews, try to get more positive reviews.
How to start receiving positive reviews? Our tips to help you to remove TripAdvisor review
Ask for feedback immediately after the purchase or service provided
Check if the customer is satisfied
Explain to the customer that the feedback is beneficial to them
Let your customer know that positive feedback helps you grow and improve your business
Reach out to regular customers
Reach out to your loyal customers
Add a link to your website
Contact customers by regular mail (yes, old-fashioned but still effective)
Contact your newsletter subscribers
Add links in your email signature
This list can become endless, and we can offer even more creative and unique ways to request feedback using customer feedback forums. But the main idea is to ask customers if they are satisfied with your service(s) / your product(s). Those who receive your email newsletters or make frequent purchases are customers who genuinely enjoy what you do and how you do it.
Follow these steps to remove a TripAdvisor review and get more positive reviews that will help you better control your rating and hopefully improve your business.
Step 7: Manage Your Online Reviews and deal with TripAdvisor Review Removal
As a tourism business owner, you should be focused on managing your company. It may mean that you do not always have enough time to check reviews on Tripadvisor and react quickly. Using different reputation management tools like Guestmeter Review, Hootsuite Review, or Qualtrics CX Review, you can check all your reviews and respond to them. These platforms may also help you to automate, poll, and promote positive feedback from your clients.
Here's more relevant information about the tools:
Guestmeter Review — a reputation management platform that helps businesses in the hospitality industry collect customer feedback through online review sites or multi-channel surveys.
Hootsuite Review — one of the most widely used platforms for managing social media, loved and trusted by over 15 million people around the world.
Qualtrics CX Review — a customer experience management platform designed to gather customer feedback. It uses its own predictive intelligence engine called iQ to automatically extract deep insights and predict the key drivers of your company's customer experience.
We hope you found this article useful. Anyway, don't feel hopeless if you get some negative reviews; you can always turn to us for professional assistance! Our team of senior specialists will find the best way to remove the TripAdvisor review. We will save your money and time, but help to find the best possible solution.