How to Scrub Your Internet Presence: Our 10 Easy-to-Follow Steps
Is it possible in the 21st century to scrub online presence entirely if you use email, various gadgets, and social networks?

It is not as simple as it might seem at first glance, but we are ready to share a few simple steps that should point you in the right direction. There are correct ways to minimize your "online footprints," which would lower your data's chances of getting out there. If something seems too complicated for you, you can always turn to us for some professional assistance.
Schedule an online meeting with a reputation expert
All you need is an email
How to scrub your Internet presence: let's get it started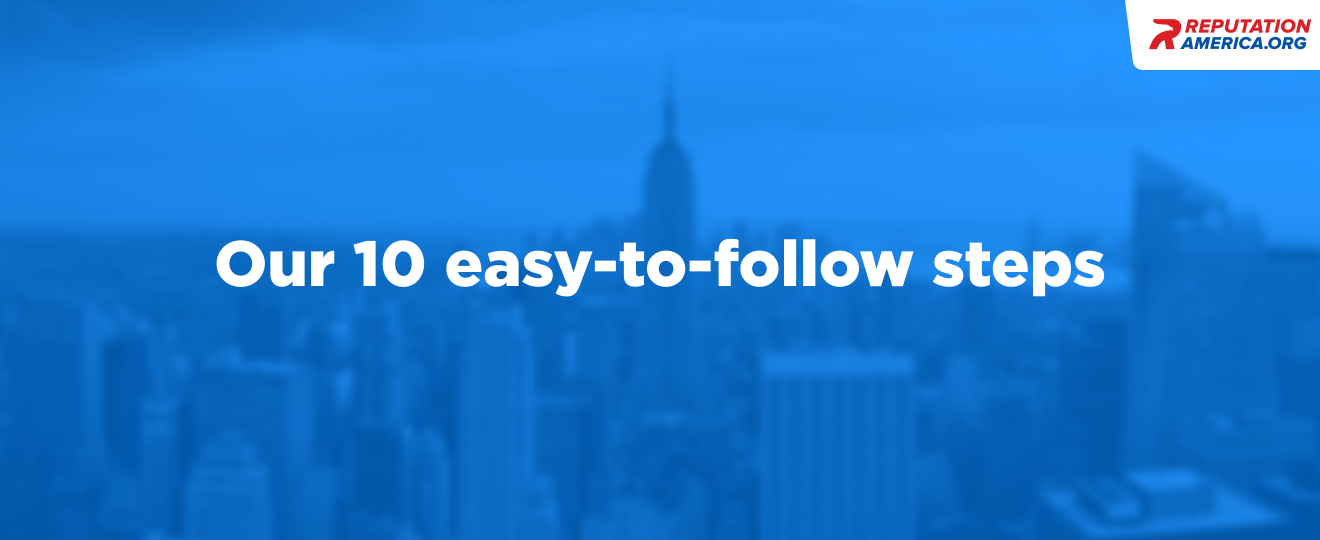 Think carefully about your decision before proceeding
Much of what is suggested below cannot be undone. It means that you will lose all personal information and traces of your online presence, and in some cases, you will not be able to restore your account using the same name and email address. These measures are radical and should be applied wisely.
Delete your accounts — it will help you to scrub online presence
As mentioned before, you may not remember all the sites on which you are registered. The more popular the website, the more effective the removal of your personal information from it if you are trying to disappear from the Internet. It will not necessarily clear your memory of the "deep web," but it is a good start. The following list should help you identify your priorities.
Remove yourself from:
Facebook
Twitter
YouTube
Linkedin
Flickr
StumbleUpon
MySpace
PayPal
eBay
Craigslist 
Delete your account on the school, college, or university website, but only if you are not already studying.
Remove information about yourself from all gaming sites; Yes, this includes all the virtual values that you have won and accumulated over the years. 
Close accounts in third-party applications such as Hootsuite, Tweetdeck, etc., attached to your pages on social networks. Do not forget about it; it will help you answer the question "How to scrub your internet presence".
Look for workarounds in a case where the account cannot be deleted
Some sites' rules do not allow you to delete your account entirely, instead offering to "deactivate" (while all your data will remain in the system) or abandon it. If there is a severe and real reason for the removal (for example, witness protection), contact the creator of the site or its administrators. In an extreme case, you should be able to change your data (your name and surname) to hide your identity.
There are also some other ways to scrub online presence:
Remove any real information about yourself from your account if it is impossible to leave the fields empty (or suspect that your data is still stored somewhere), replace them with the default options.
Create a new email account on a free site. The less the login will look like your real name, the better.
Associate an undeleted account with a new mailbox. Confirm the request to change the email address. When the data is changed, make sure that your primary email address is no longer displayed anywhere in this account.
Delete your new email account. Your non-deletable account is now linked to a nonexistent email address.
How to scrub your Internet presence? Delete your personal pages
If you have created a site on the network, you would have to remove it altogether. 
These include:
Blogs or social networking blogs.
Different groups like Ning, Yahoo Groups, etc.
Forum posts. It may be almost impossible on some sites, but try to do your best.
Articles that you have posted on specialized sites. 
Success will depend on these sites' terms and conditions; you will need to check everything carefully. Be patient — this is a big piece of work, but should help you scrub online presence.
Check if you are on the list of telephone operating companies
If so, ask them to delete your data altogether. Do the same in case of other client databases on the network, which may contain your name and additional information.
Cancel all newsletter subscriptions
Asking yourself a question: "How to scrub your internet presence?" Cancel ALL your email newsletter subscriptions. This should be simple enough and done by clicking on the direct link indicated in the text of the email. Follow the individual instructions. If you cannot find such instructions, contact the site administrators directly.
Delete the Internet search results that apply to you 
Search different variations of your name, your surname, or nickname to find everything you could forget and delete it manually. Remember that search engines display cached data (including mentions of you) from old pages that have already been changed or deleted; showing outdated information in the results is not in the search engine's interests so that they will disappear over time.
Delete your email account
The "how to scrub your internet presence" method will depend on whether you use a paid or free service. If you decide to take such extreme measures, wait until you have completed all the other steps described in this article, since you may still need your email when they are completed.
Before deleting your email, always check that it contains essential information that is worth saving. Transfer all the necessary materials to a USB flash drive or use another storing information method.
Accept that you will not be able to delete absolutely everything 
There may be some things that just can not be done. In such cases, it will be best to accept everything as it is. What is more, you can always pretend that it is not you (especially if you have a widespread name)!
Consider using our services — we know how to scrub your Internet presence
We are specializing in removing information from the network and know-how to scrub your internet presence. If you do not want to go through this stressful process yourself, you can always turn to us for professional assistance! Our team of outstanding specialists will find the best way to scrub online presence. Don't feel hopeless and never give up!